Bio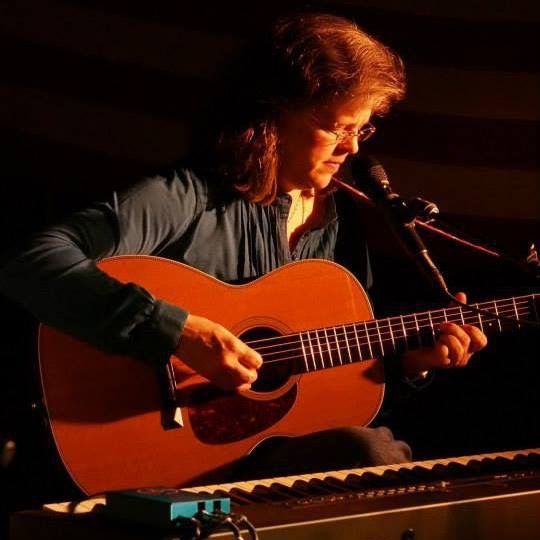 Kim Person
performing artist/producer/engineer
When she's not renovating her idyllic, 100-year old farm house, engineer Kim Person is working with some of the most talented acoustic guitarists and singer-songwriters in the world.
The original music compositions of Americana singer/songwriter Kim Person have best been described as "music written in the key of life." An accomplished vocalist, finger style guitarist and pianist, she has performed nationally and locally as a solo artist and with artists Pam Rose, Jill Colucci, Stephen Bennett, Judy Ward, Tommy Emmanuel, The Kingston Trio and co-writer, Lana Puckett. This songwriting team has garnered an impressive list of career accomplishments, including Four Time Kerrville New Folk Finalists, Napa Valley Songwriter Winners, and most notably having their song "Cornstalk Pony" recorded by legendary singer/songwriter, Steve Gillette, (John Denver~Darcy Farrow, Chesapeake & Linda Ronstadt~Bed of Roses, Garth Brooks~Unto You This Night, Anne Murray~He Can't Help It If He's Not You).
As a producer and recording engineer, Kim taps into that same winning combination. Fellow engineers recognize her work as technically exact, while fellow music lovers recognize it as effortlessly beautiful. It is Kim's passion for the natural sound of the acoustic guitar that led her to become one of the most sought after acoustic guitar producer/recording engineers, working with PBS, Grammy nominated songwriters, Pam Rose and Jill Colucci, National Flatpicking/Fingerstyle Champion, Stephen Bennett, National Finger style winners, Matt Thomas and Christie Lenee, Dustin Furlow, Jacky Lau, Martin Taylor, Frank Vignola, and earning a Grammy nomination and two Australian Golden Guitar Awards for her work with Tommy Emmanuel.
"

I would like to say a big "thank you" to Kim Person, who lovingly puts her whole heart into everything she does with me. Her quiet guidance, which I am learning to listen to more, has been a steady rock for my soul to stand on, depend on. Kim, your work is pure gold, you are an icon of Jesus, for his love flows so strongly through you that its warmth touches all who are lucky enough to get close to you. Thank you for your never ending patience with me during the making of this recording (Little By Little) and for such care and attention to the quality of our work. Blessings, sister!"
"

I've had the pleasure to work with Kim Person for nearly two decades. Her expertise is unparalleled and her attention to detail and kind urging toward excellence have made the projects we've done together exceed my expectations, in every case. I've never heard an acoustic guitar sound better under her engineering mastery, and she knows every in and out of how to record women's voices. She is undoubtedly my favorite to work with, as engineer, co-producer or producer! You Go, Girl!!"
— Pam Rose
"

Working with Kim Person has been nothing short of a dream! When I first listened to "The Mystery" by Tommy Emmanuel and "Ten" by Stephen Bennett I was just as inspired by the warm, resonant quality of the audio as I was their playing. I think Kim and I nailed something reminiscent of that sound but also unique, thanks to her impeccable knack for capturing the individual artist's "soul" and their guitar's unique tonal qualities. There are 6 brand new tracks and 4 "reimagined" tracks of some old favorites fans will recognize that are in different tunings!"
"

There are very few engineers in the world who have the ability to capture the sound of acoustic guitar the way you do. You bring them to life in such spectacular fashion."
"

She (Jill Colucci) really is quite amazing. It is funny that someone who is so talented and accomplished is not more known...by her name as opposed to only by her voice. I guess you and her are a lot alike in that manner. You have done a lot of recording behind the scenes that have promoted others into the spotlight. But I heard you perform and you are amazing too!"
— Kevin Blatnik
"

Recommended listening - exemplary recordings/productions: The ability to evaluate sound quality of a mix is of paramount importance in a Music Production project. In the music industry often the 'mix' is carried out by specialised mixing engineers, under the guidance and artistic supervision of the music producer. Folk / Acoustic: The Mystery, by Tommy Emmanuel; engineer/producer, Kim Person "